'24 national Top 35 prospect Isaiah Elohim signed his LOI with Arkansas on Wednesday
By Kevin McPherson
on 2023-11-08 15:53 PM

By Kevin McPherson
LITTLE ROCK — Highly regarded 2024 Hog pledge Isaiah Elohim made it official when he signed his national letter of intent with Arkansas on Wednesday, the first day of the week-long early signing period.
Elohim (6-5 wing, Sierra Canyon in California, Rivals national No. 34 / 4-star prospect) took his official visit to Arkansas the weekend of Sept. 15-17 before committing to the Hogs on Oct. 5. He chose Arkansas over Kansas and Villanova with USC and Providence also in the chase with a host of other high major programs from coast-to-coast.
Elohim was the team's second pledge in the 2024 recruiting class as he joined Jalen Shelley (6-8 combo forward, Link Academy, ESPN national No. 43 / 4-star prospect), who committed to the Hogs on Sept. 11 and also signed his NLOI with Arkansas on Wednesday.
Elohim was impressed during his OV to Arkansas.
"I thought it was a great visit," Elohim told Hogville on Sept. 17. "It was a great campus, the facilities are top tier. I just liked everything about it. The coaching staff treated me real good. They've been really studying me, telling me things I can do to improve. I can tell they really took their time recruiting me. That's probably the best part of the whole thing."
During his UA visit, Elohim attended the Hoop Hogs' practice on Saturday afternoon (Sept. 16) before attending the Football Hogs' game against BYU on Saturday night at Razorback Stadium.
"It was probably the most efficient practice I've seen in a while," Elohim said. "Everybody got shots up, everybody practiced hard. Definitely one of the most efficient practices I've seen. You guys support y'alls teams like no other, it (the football game atmosphere) was crazy. They (Hog fans) definitely support their teams to the fullest."
Elohim recalled other aspects of practice that stood out to him.
"They definitely have several big guards, they play with a lot of pace," he said. "They're basically an NBA team in college, they run a lot of pick-and-roll sets."
Elohim likes what Musselman conveyed to him on his visit.
"He basically explained everything he needed to, and Arkansas is really nice," Elohim said. "It was better than I expected for sure."
Elohim also has a relationship with former Arkansas star and Orlando Magic rookie guard Anthony Black, who just happened to be on campus the same weekend that Elohim was in town for his visit.
"AB's a really good guy," Elohim said. "We talked for a little before he went to say 'Hi' to fans and stuff like that."
Elohim visited Villanova the weekend of Sept. 8-10 and he visited Kansas in February. He had scheduled visits to USC and Providence that he cancelled. 
"I could pull the trigger (on a commitment announcement) soon, and if I know where I want to go and commit then I'd go ahead and sign (during the fast-approaching November early signing period)," he told Hogville on Sept. 17.
Elohim picked up his Hog offer in mid-December, at which time he told Hogville: "I literally just got the call five minutes ago (from Head Hog Eric Musselman to extend the offer), so I'm still a little in shock."
After missing out on a planned unofficial visit to Arkansas last October 2022, Elohim finally made his way to Arkansas' campus nearly a year later.
"The staff has been extremely consistent and have showed love through the ups and downs when I got hurt (during) sophomore summer (of grassroots play)," Elohim said during an August 2023 interview with Hogville. "(Recruiting coordinator Ronnie) Brewer and Coach Musselman communicated with me the whole time, and their play style and system I feel like fits my game."
Elohim said he suffered his injury during the early stages of Nike EYBL circuit play in 2022.
"It was a knee injury," he said. "I had to get a PRP procedure and was out for like six months. It was during like the second session of EYBL after my sophomore season."
Elohim believes he's beyond 100% healthy at this time
"Yeah, I'm 1000%," he said.
As part of his Razorbacks recruitment, Elohim previously said Black had played a role that contributed to his interest in visiting Arkansas.
"I have a really good relationship with Anthony Black," Elohim said. "He had really good things to say about his experience."
Elohim said his Arkansas courtship has been via coaching-staff-by-committee. Assistant coach Anthony Ruta was on hand over the summer when Elohim took part in the prestigious NBPA Top 100 Camp.
"The whole staff has been in contact with me often, but I've spoken the most probably with Coach Musselman, Coach (Ronnie) Brewer, and (assistant coach Keith) Smart," he said.
Prior to his Arkansas OV, Elohim told Hogville he had a few ideas about what he'd be paying attention to during his visit.
"I'm looking forward to getting a feel for the school and community as well as the team and how things work for the most part," he said.
Elohim held scholarship offers from the Hogs, Kentucky, Kansas, Michigan, USC, Villanova, Texas, Oregon, Providence, Louisville, Kansas State, Arizona State, Florida State, Illinois, and Washington among others.
Elohim is a Kingston, New York, native who moved to the west coast in California when he was 8-years-old.
He averaged 16 points, 5 rebounds, and 3 assists per game for Sierra Canyon in 2022-23, which was his second season with the well known national independent high school. He played his 2023 spring and summer grassroots basketball with 17U Paul George Elite on the Nike EYBL circuit, during which Arkansas coaches were also able to watch him compete.
Elohim averaged 19.3 points (on 56.0% field goal shooting), 5.4 rebounds, and 2.5 assists in '20-21 as a high school freshman at Northridge (Calif.) Heritage Christian. He moved on to Sierra Canyon for his sophomore season in '21-22.
Elohim is a strong, sturdy, physical, athletic slasher with craft in his mid-range shot creation game plus three-point range in catch-and-shoot opportunities.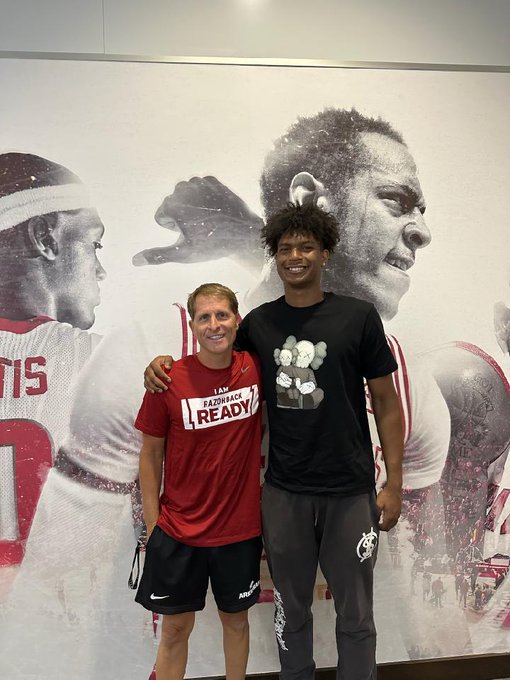 (Last updated: 2023-11-08 15:53 PM)