Arkansas junior guard Devo Davis knows the drill when it comes to Hoop Hogs turning their SEC misfortunes around
By Kevin McPherson
on 2023-01-23 15:18 PM

By Kevin McPherson
LITTLE ROCK — Arkansas junior guard Davonte "Devo" Davis was forged through the fire of two Razorback resurgences in the past two seasons as he helped dig the team out of early SEC holes on their way to grand finishes.
What turned out to be two rags-to-riches SEC stories in 2020-21 and '21-22 for Davis and the Hogs — going from broke-and-busted in early league play to striking gold with NCAA Tournament Elite Eight runs and final national Top 10 rankings — offers more than a sliver of hope that the current '22-23 Arkansas team can make it a trifecta.
The 25th-ranked Hoop Hogs (13-6, 2-5 SEC) finally got off the mat on Saturday with a 69-57 home win over unranked Ole Miss at Bud Walton Arena in Fayetteville, ending a four-game losing streak as part of a larger 5-losses-in-6-games skid to open SEC play that matched the previous poor league start of the '08-09 John Pelphrey-era Hogs who went on to finish 2-14 for last place in the final SEC standings.
Davis was key in both previous SEC turnarounds that subsequently salvaged both seasons, and it's noteworthy that he's elevated his play of late as Arkansas looks for yet another turnaround in the first half of league play.
It was Davis as a freshman in '20-21, in combination with fellow freshman and big man Jaylin Williams, who emerged as the catalysts in a significant top-player-rotation shift that helped the Hogs climb out of a 2-4 SEC rut on their way to winning 11 consecutive league games to finish second in the final SEC standings at 13-4. Davis would earn a starting role, and he capped off his stellar rookie campaign by hitting the closing-seconds, game-winning shot against Oral Roberts in the NCAAT Sweet 16 to send the Hogs to the first of those back-to-back Elite Eights.
As a sophomore in '21-22, Davis entered the campaign with a preseason All SEC second team selection, but as his role expanded to include some primary ball-handler duties he struggled at times until shifting to a sixth man role as little-used senior transfer forward Trey Wade moved into the starting lineup. That rotation tweak was the catalyst for the team's overall get-right formula in flipping a 0-3 league start to a 13-5 finish in the SEC standings before the Hogs grinded their way to another Elite Eight run.
Fast-forward to Saturday with Arkansas mired in a four-way tie for last place in the SEC at 1-5, and Davis was as instrumental as anyone in delivering Arkansas back to the winner's circle as he finished with 16 points (6-of-11 field goals, including 3-of-5 from 3, and 1-of-2 free throws), 5 rebounds, 4 assists, 1 steal, and 3 turnovers in 39 minutes.
"You can look at Devo's stat line and the 3 for 5 for threes and the 6 of 11 [overall], but his defense, it's like every single night he's taking a star player," Arkansas head coach Eric Musselman said following Saturday's win over Ole Miss. "And not doing a good job, but doing a phenomenal job from a defensive standpoint. I cannot talk enough about his defense. Even these games where we haven't won, whether it's (D'Moi) Hodge (of Missouri), whether it's (Brandon) Miller with Alabama … I can go on and on at how he has defended at an incredible elite level."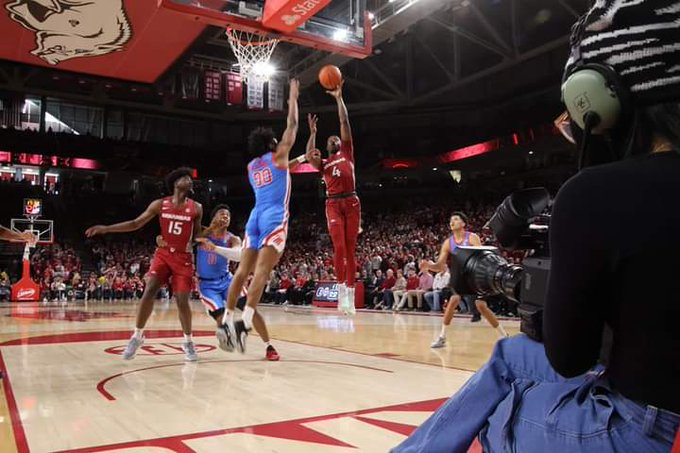 Photo by Hogville's John D. James
It's only one game, sure, but in previous seasons it wasn't as simple as a flip of the switch with player-rotation tweaks solving everything. There were positive signs, sometimes subtle or unacknowledged, that were brewing while the team was still struggling.
Two years ago it was Davis playing spot minutes late to help Arkansas overcome a deficit on the road against Auburn in the SEC opener as the Hogs would go on to win by 12 points, then three games later Davis had a breakout game (20 points, 7 rebounds, 6 assists, and 2 steals) in a home win over a slumping Georgia squad — both performances leading up to Musselman turning to Davis and Williams in a significant way midway through a home game against Auburn when the Hogs (2-4 in the SEC at the time) fell behind by 18 points, only to come back to claim the first of 11 consecutive victories in league play as the two freshmen remained entrenched in the top playing rotation.
Last season it was Williams becoming more of a dual producer in scoring and rebounding with increased minutes once league play began, which took hold through the first three SEC games that were all losses. Simultaneously, senior Stanley Umude broke out as a volume scorer and three-point shooter. Again, these improvements were taking shape as the Hogs were still losing games, and those developments continued to add value once Wade moved into the top rotation.
Getting back to this Arkansas squad and what Davis has done recently to move the needle in a positive way in his own production, efficiency, and impact, in the last four games he's averaged 16.8 points (shooting a collective 8-of-18 from 3 for 44.4% and 9-of-11 free throws for 81.8%), 6.8 rebounds, 3.5 assists, and 1.0 steal in 37.8 minutes per game, and as Musselman often points out Davis typically guards the opposition's best offensive player with optimum results.
That stellar on-ball defense first and foremost has kept Davis on the court, and despite recurring issues with turnovers, poor shot selection, and situational decision-making, Davis has been invaluable to most of Arkansas' on-court success the past three seasons. If his last four games foreshadows what's ahead for Davis, the Hogs will certainly benefit in ways that lead to more winning.
And it's not just Davis showing recent improvement in the last several games and weeks …
* In Arkansas last two games — loss at Missouri and home win over Ole Miss — freshman guard Anthony Black averaged 16.0 points (on 42.3% field goal shooting and 75.0% free throw shooting), 7.5 assists, 5.5 rebounds, and 3.5 steals per game. Black established career-highs in both assists (8] and steals (5) against Ole Miss, and the 7.5-assist average in the two games doubled his season average coming into the week. Six of Black's eight dimes against Ole Miss were on three-point field goals. As good as Black has been as a scorer at times, a high-volume balance of scoring and facilitating means his teammates are elevating their scoring output.
* In Arkansas' last 5 wins — against Oklahoma, Bradley, North Carolina-Asheville, Missouri, and Ole Miss — freshman 3/4-combo forward Jordan Walsh averaged 10.6 points (on 63.6% field goal shooting, including 41.7% from 3), 4.8 rebounds, 2.0 steals, and 1.0 assist. The biggest keys for Walsh to produce consistently are curbing his fouling issues that take him off the floor while expediting free throw opportunities for opponents, and coaxing confidence and poise out of him as a shooter and driver on the offensive end. Walsh has been a solid defender when not fouling, and he's been a worthy rebounder. In Arkansas' last two games, he averaged 12.5 points (on a collective 9-of-13 field goals, including 4-of-6 from 3, and 3-of-5 free throws) and 4.5 rebounds.
* In both of Arkansas' SEC wins (home against Mizzou on Jan. 4, and home against Ole Miss on Saturday), freshman wing Joseph Pinion sparked first-half runs against zone defenses that had stifled his top-rotation teammates as they fell behind in both games. Pinion's first-half heroics not only helped turn the tide in those games by halftime, but he contributed more efficient production in the second halves of those games as he notched matching career-high scoring efforts with 13 points in each outing (he shot a collective 9-of-17 from the field for 52.9%, including 6-of-12 from 3 for 50%, and 2-of-2 free throws). Pinion's gravity to help space the floor certainly aids his drive-to-score teammates, and his quick-strike effectiveness as a catch-and-shoot scorer has given the Hogs diversity in their offensive attack while injecting some much-needed simplicity putting the ball in the basket. He's achieved double-figure scoring in each of Arkansas' last three wins (includes his 10- point performance in an 85-51 over North Carolina-Asheville on Dec. 21), and he's played between 9 and 27 minutes in five of the team's last eight games.
* Senior 6-10 center Makhel Mitchell is the latest frontliner to step up for the Hogs, which is much needed with star stretch-4 Trevon Brazile lost for the season due to injury during non-conference play in early December. Makhel Mitchell saw significant playing time in three of the Hogs' last four games — against Alabama, Vanderbilt, and Ole Miss — as he averaged 5.7 points (on a collective 7-of-8 field goals and 3-of-8 free throws), 3.7 rebounds, 2.0 blocks, and 1.0 steal in 20.3 minutes in those games. It was his best three-game stretch of production since he helped the team go 2-1 for third place in the Maui Invitational in November. Makhel along with his twin brother Makhi Mitchell, who's started all but one game this season with averages of 7.6 points (63.7% field goal shooting), 5.7 rebounds, and 1.4 blocks, as well as senior forwards Kamani Johnson and Jalen Graham form a quartet of bigs that has cobbled together a production-by-committee to help fill the void after Brazile was lost for the season. It's all frontline hands on deck from here on out as the Hogs look to turn their season around.
* As a team prior to its previous three games (against Vanderbilt, Missouri, and Ole Miss), Arkansas was shooting a dreadful 28.4% from 3. But collectively against the Commodores, Tigers, and Rebels, the Razorbacks shot 22-of-55 from distance for 40.0%. The 18.3 triple attempts per game in that stretch seem a bit high for a team that does better getting to the paint, rim, and foul line, but that kind of efficiency makes it digestible. Davis, Walsh, and Pinion have been at the heart of team's the three-point shooting surge — even senior forward / center Makhi Mitchell stepped out against Vandy to make his lone three-point attempt of the season — but moving forward it's unclear if recent gains behind the arc will carry over.
* As a team, Arkansas has been mostly devastated in either turnovers or points-off-turnovers, or both, in five of its seven SEC games. BUT, in two of their last three games — at Vanderbilt and home against Ole Miss — the Hogs won both categories for a collective plus-8 in turnovers (28-20) and plus-10 in points-off-turnovers (28-18). It's too small a sample size to suggest a turnaround in that aspect of the game, especially given a 21-turnover performance on Wednesday at Missouri when the Hogs were minus-19 in points-off-turnovers.
Now that Arkansas has gotten off the mat for its first win in weeks, it remains to be seen if the Hogs can stay on their feet. The next test and chance to continue their rise is at home against unranked LSU on Tuesday (6 p.m. CT, ESPN2), and you can bet the Razorbacks will be looking to avenge their three-point loss at LSU in the SEC opener in late December, which afterall was the first domino to fall in the still-too-fresh-and-familiar losing skid.
(Last updated: 2023-01-23 15:18 PM)