Arkansas punishes LSU, 60-40, on Tuesday at BWA as Hoop Hogs have won back-to-back SEC games by double-digit margins
By Kevin McPherson
on 2023-01-24 23:48 PM

By Kevin McPherson
It may be a bit premature to suggest Arkansas has launched into its annual full-mode SEC turnaround, but the Razorbacks now have back-to-back double-digit-margin SEC wins as part of their first two-game winning streak in over a month thanks to an end-to-end, dominant 60-40 victory over LSU on Tuesday at Bud Walton Arena in Fayetteville.
Junior guard Devo Davis started strong and finished that way as he had 16 points (7-of-8 field goals, including 2-of-2 from 3), 7 rebounds, 3 assists, 2 steals, and 2 turnovers in 40 minutes, and the Razorbacks were stifling on defense as they held the Tigers to 14-of-52 field goal shooting (26.9%) while winning turnovers (15-12) for an impressive plus-14 advantage in points-off-turnovers (18-4) to go with a plus-8 edge in fastbreak scoring (15-7). The Hogs were plus-1 on the glass (36-35) and won points-in-the-paint (28-22).
Thanks to a 23-3 run Arkansas led by 24 points at the break, 38-14, after holding the Tigers to 3-of-25 field goal shooting (12.0%) in the first 20 minutes, and though LSU would string together a couple of runs to pull within an 11-point deficit in the second half, the Hogs closed the game on a 14-5 spurt to enjoy their first 20-points-or-more winning margin since defeating North Carolina-Asheville, 85-51, in non-conference play on Dec. 21.
The Razorbacks (14-6, 3-5 SEC) had lost four consecutive games to cap a 5-losses-in-6-games stretch to open league play tied for last place, but consecutive home wins over LSU and Ole Miss in the last three days has pulled the Hoop Hogs out of the league cellar and on a positive trajectory similar to how the program navigated poor SEC starts in the previous two campaigns (2020-21 and '21-22) when those teams started winning in late January before rolling through the second half of league play on their way to back-to-back NCAA Tournament Elite Eights and final national Top 10 rankings.
These '22-23 Razorbacks — playing for the first time in pink uniforms in support of Coaches vs. Cancer — improved to 10-1 in home games on the season while avenging their 60-57 road loss against LSU to open SEC play on Dec. 28 (Arkansas is 0-4 in true road games, all in league play, as part of a 4-5 record in all games played away from BWA).
The last time the Hogs enjoyed a two-game winning streak was in non-conference play when the team defeated Bradley on Dec. 17 followed by North Carolina-Asheville on Dec. 21.
"Great first half defensively," Arkansas head coach Eric Musselman said. "I mean, you don't see a college basketball game where you hold somebody to 3-for-25 (from the field). We were extremely excited to play this game based on how the game went down in Baton Rogue. I thought we had a group that was really motivated the last 48 hours. And as we got closer and closer to tipoff, there was no external motivation needed.
"That locker room, I feel like, was extremely motivated to play this game."
Musselman was pleased with Davis' production, efficiency, and maturation as a leader on the court.
"The biggest thing — and my wife said it two days ago — his shot selection has been unbelievable," Musselman said. "He's playing the point guard with Anthony. Tonight he's telling us to slow it down, get a good shot and milk the shot clock. That's maturity on his part, it's him understanding the system, understanding what we're looking for down the stretch. Defensively, again, it's another level, and now offensively he's doing the same exact thing. From an offensive standpoint, he's doing a good job taking care of the basketball.
"It's really cool to see growth in his game, both as a leader and offensively and defensively he keeps getting better. I don't know how that's possible, but he keeps doing it."
In addition to Davis' big night, freshman guard Anthony Black had 14 points (on 3-of-5 three-point shooting and 5-of-6 free throws), 7 rebounds, 3 assists, 3 steals, and 3 turnovers in 37 minutes. Junior wing Ricky Council IV chipped in 10 points, a game-high 7 assists, 6 rebounds, 1 steal, and 1 turnover in 40 minutes. Senior forward / center Makhi Mitchell contributed 10 points (4-of-6 field goals and 2-of-2 free throws), 8 rebounds, and 3 blocks. Senior reserve Jalen Graham (6 points, 3 rebounds, 1 steal, and 1 block in 17 minutes) and freshman combo forward Jordan Walsh (4 points and 1 rebound in 24 minutes) also made key contributions.
The Hogs shot 23-of-51 from the field (45.1%), including 5-of-13 from 3 (38.5%), and 9-of-12 at the foul line (75.0%). As part of their dismal shooting from the field, the Tigers made only 1-of-9 from 3 (11.1%). LSU was 11-of-16 at the foul line (68.8%).
LSU (12-8, 1-7 SEC) has lost seven consecutive games since defeating the Hogs in the league opener as the Tigers remain in a tie with Ole Miss for last place in the league.
LSU did not have a player score in double-figures against the Hogs as leading scorer and big man KJ Williams was limited to 9 points (2-of-10 field goals, including 0-of-1 from 3, and 5-of-7 free throws) to go with 11 rebounds. Guard Adam Miller finished with 9 points (3-of-12 field goals, including 1-of-6 from 3, and 2-of-3 free throws). Senior guard and South Carolina transfer Trae Hannibal, who lit the Hogs up with 19 points in the previous matchup, finished with 8 points (4-of-10 field goals).
Arkansas improved to 42-35 all-time against LSU as the Razorbacks have won four of the last five meetings in the series.
The win over the Tigers (NET No. 130) counts as a Quad-3 result. Based on the current NCAA NET rankings, Arkansas (NET No. 27) is 1-4 in Q1 games that factor into their postseason resume (win over San Diego State in a neutral-site game, and losses to Missouri on the road, Alabama at home, Auburn on the road, and Creighton at a neutral site). The Hogs are 2-2 in Q2 games (home win over Mizzou and a neutral-site win over Oklahoma, and road losses to LSU and Vandy) and 11-0 in Q3/4 games.
Musselman improved to 6-4 as Head Hog coaching against LSU. He's 87-34 overall at Arkansas, which includes a 39-27 record against SEC teams and a 6-2 mark spanning the last two NCAA Tournaments that culminated in back-to-back Elite Eight runs and back-to-back final national Top 10 rankings.
Next up for the Hoop Hogs is the annual Big 12/SEC Challenge, which will send Arkansas on the road to face 17th-ranked Baylor (3 p.m. CT, Saturday, ESPN) in a rematch of the teams' Elite Eight battle in March 2021 that the Bears won on their way to capturing the '20-21 national championship.
Musselman started the combination of Council, Black, Davis, Walsh, Makhi Mitchell.
Davis started quick with 7 points, 2 rebounds, and 2 steals to help the Hogs to a 15-11 lead, and what followed was an all-hands-on deck Arkansas avalanche as the Razorbacks outscored the Tigers 23-3 in the final 10:38 of the first half for a 38-14 lead at the break.
In that run, Black and Walsh combined for 9 consecutive points, Davis scored on a layup sandwhiched between two Jalen Graham dunks, then Davis and Black hit back-to-back triples before Council scored on a driving layup to cap the Arkansas scoring in the first 20 minutes.
Arkansas shot 15-of-26 from the field in the first half (57.7%), including 4-of-7 from 3 (57.1%), and 4-of-4 free throws. Defensively, the Hogs were stifling as they held the Tigers to 3-of-25 shooting from the field (12.0%), including 0-of-3 from 3. The Tigers did manage 8-of-11 from the foul line (72.7%).
The Razorbacks were plus-5 in turnovers (10-5) for a whopping plus-14 advantage in points-off-turnovers (14-0).
Davis led the Hogs with 12 points (5-of-5 field goals, including 2-of-2 from 3), 5 rebounds, and 2 steals in the opening half while Black has 10 points, 3 rebounds, and 3 assists.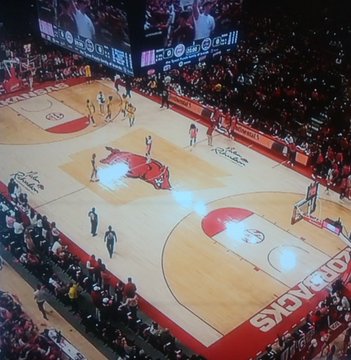 (Last updated: 2023-01-24 23:48 PM)