Hoop Hogs' 5-star signee Baye Fall named to 2023 McDonald's All American team
By Kevin McPherson
on 2023-01-24 17:05 PM

By Kevin McPherson
LITTLE ROCK — We can now assert that the Arkansas Razorbacks are on a hot streak when it comes to landing McDonald's All Americans as 2023 early-period signee and 5-star prospect Baye Fall was named to the 24-player McDonald's All American team on Tuesday, giving the Hoop Hogs a total of four McDonald's All American signees in the last two recruiting cycles.
Fall (6-11 forward / center, Accelerated Schools in Denver, Colo., Rivals national No. 15 / 5-star prospect) heard his name called during the McDonald's All American team roster announcement that was made during the NBA Today telecast Tuesday afternoon on ESPN. He's 1 of 12 players that make up the West squad.
The 2023 McDonald's All American game will be played on March 28 in Houston. The annual event is considered the premiere all star game for the top high school seniors in the nation.
One of Arkansas' two 2023 5-star signees, Fall now join the program's three 2022 5-star signees and current Hog freshmen Nick Smith, Jr., Anthony Black, and Jordan Walsh who were all named to and played in the 2022 McDonald's All American game to give the program the aforementioned four McDAA's spanning the last two years.
"This is an incredible honor and no doubt the highlight of my young career" Fall said. "The McDonald's All-American Game has produced so many NBA stars like Magic Johnson, Michael Jordan, Kobe Bryant and LeBron James. To even be in the same conversation feels impossible to believe."
In Grind Session league contests, Fall's averaging 16.3 points (48.1% shooting from the field and 82.5% from the free throw line) to go with 8.9 rebounds, 1.9 blocks, and 1.1 assists per game.
Arkansas 2023 5-star signee Layden Blocker (6-3 guard, Little Rock native, Sunrise Christian Academy in Wichita, Kan., composite national No. 22 / 5-star prospect) had been nominated for McDAA consideration but did not make the team.
Fall and Blocker each signed their national letter of intent with Arkansas in November, and below is my analysis on what they'll bring to the Razorbacks beginning next season (2023-24) …
* Fall and Blocker as complementary pieces. It automatically stands to reason that a big man and guard pairing is a natural fit to build a lineup around as soon as this time next season. But Fall and Blocker are both elite when it comes to maximizing end-to-end speed, quickness, and athleticism relative to their positions, and both have a knack for making plays when the pace is frenetic, whether it's a spectacular finish above the rim offensively or a disruptive stop as a locked-in defender. Blocker gets downhill with explosiveness as he picks and chooses whether to finish or facilitate, and Fall has the length and agility combined with his quickness to either finish off a pass or clean up a miss off the glass with a putback. Two-man game scenarios must have Head Hog Eric Musselman licking his chops as once again both players have a quickness/speed advantage relative to their positions, so the higher out on the floor they initiate their two-man action the more likely it is that both will be able to beat their defender to get open and create advantages attacking the paint and rim. These are just a few examples of why the Fall-Blocker combo looks like a winning one at the next level.
* Fall's overall fit in Musselman's system. For starters, Fall is a consistent volume-rebounder as a walking double-double despite a slender build, and part of that is because of his agility and length in getting above the rim quickly as well as striding outside of his area to win 50/50-ball battles. Looking back at the success former Arkansas star and current NBA big man Jaylin Williams had coming into the program as a proven, consistent volume-rebounder, we see a similar path in terms of production (not stylistically of course) for Fall, who also projects as a plus-rim-protector as a shot-blocker and shot-alterer as he continues to progress toward the college game. Rebounding and defense are staples in Musselman's system that rewards execution while minimizing mistakes, so Fall has a head start there. Fall is a crafty interior scorer using footwork, quickness, elevation, and length to finish over defenders. He's also improved his face-up game in terms of perimeter shooting ball-handling, according to his guardian and Colorado Hawks spring-and-summer grassroots coach Greg Willis.
* Blocker's overall fit in Musselman's system. Blocker is a dynamic point guard who combines explosive burst and leaping ability with a fearless attacking style to break down defenses as an elite slasher who can effectively score and facilitate for others. His three-point shooting continues to emerge and improve. Blocker is a plus-rebounder from the guard spot, and a fierce competitor who has the tools to be a consistent plus-defender. Again, Musselman loves players hard-wired to battle to win blue-collar hustle plays, and that is exactly what Blocker brings to the table. Blocker has proven to be clutch at both ends of the floor in tight, end-of-game scenarios and that fits like a glove in a Musselman system that routinely sees games come down to a final few possessions to determine the outcomes.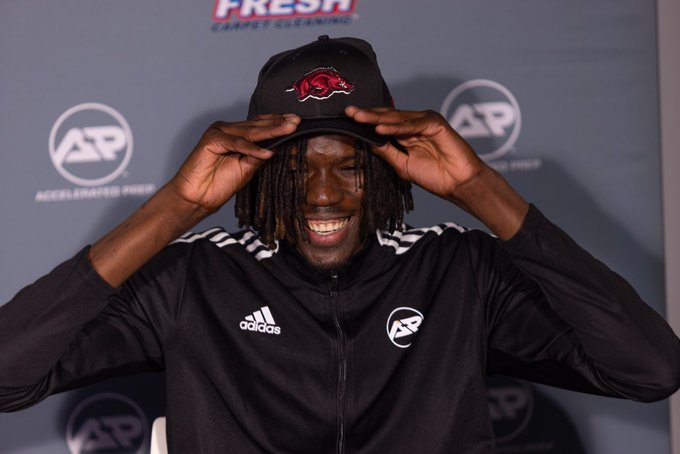 (Last updated: 2023-01-24 17:05 PM)